Vancouver, BC – September 13, 2016.
The British Columbia Real Estate Association (BCREA) reports that 8,945 residential unit sales were recorded by the Multiple Listing Service® (MLS®) in August, up 1.5 per cent from the same month last year. Total sales dollar volume was $5.1 billion in August, down 6.7 per cent compared to the previous year. The average MLS® residential price in the province was $569,393, a decline of 8.1 per cent compared to the same month last year.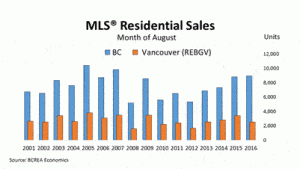 "Strong housing demand across most regions of the province offset slowing home sales in Vancouver last month," said Cameron Muir, BCREA Chief Economist. "The newly introduced 15 per cent foreign buyer tax combined with the 3 per cent property transfer tax on homes over $2 million brought in earlier this year, slowed demand at the top end of the market in Vancouver last month."
"The decline in the average home price was due to a change in the composition and location of homes sold in the province," added Muir. "Fewer sales of high priced detached homes relative to all other homes sales in Vancouver as well as fewer Vancouver home sales relative to the rest of the province has caused the average price statistic to decline."
Year-to-date, BC residential sales dollar volume increased 39.1 per cent to $61.6 billion, when compared with the same period in 2015. Residential unit sales climbed by 22.1 per cent to 86,206 units, while the average MLS® residential price was up 13.9 per cent to $714.400.
-30-
For more information, please contact:
Cameron Muir Damian Stathonikos
Chief Economist Director, Communications and Public Affairs
Direct: 604.742.2780
The British Columbia Real Estate Association (BCREA) is the professional association for over 20,000 REALTORS® in BC, focusing on provincial issues that impact real estate. Working with the province's 11 real estate boards, BCREA provides continuing professional education, advocacy, economic research and standard forms to help REALTORS® provide value for their clients.
To demonstrate the profession's commitment to improving Quality of Life in BC communities, BCREA supports policies that help ensure economic vitality, provide housing opportunities, preserve the environment, protect property owners and build better communities with good schools and safe neighbourhoods.
For detailed statistical information, contact your local real estate board. MLS® is a cooperative marketing system used only by Canada's real estate boards to ensure maximum exposure of properties listed for sale.
To subscribe to receive BCREA publications such as this one, or to update your email address or current subscriptions, click here.